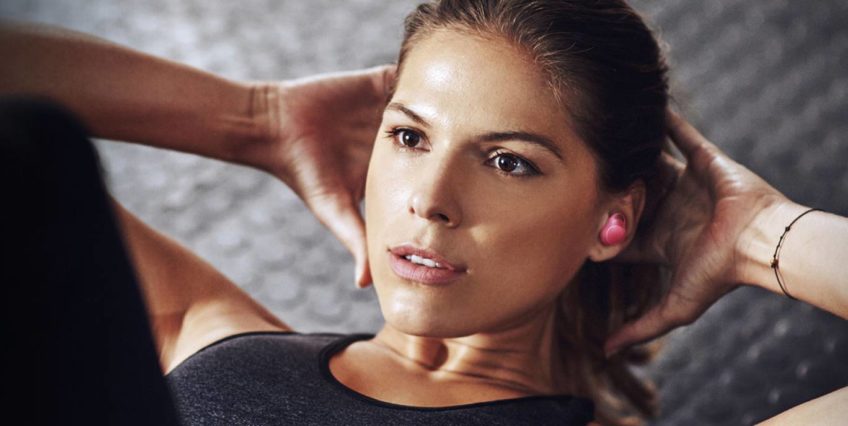 Are you researching the gyms in your area and know you'll be hitting the gym this January?
Your list of New Year resolutions likely includes losing a few pounds and raising your fitness levels. It can be overwhelming but there are positives: New Year, New Gear. Fitness gadgets and gizmos might be just what you need to get motivated in 2019.
Fitness gadgets: The wearables There's no point going the distance if you can't track your results and feel smug. Fitbit's Charge 3 (£129.99, johnlewis.com) is a neat, lightweight option that'll record all your major fitness stats, monitor your heart-rate and sleep.
It offers seven-day battery life, is water resistant to 50m, and has over 15 goal-based exercise modes.
If you're happy to pay more, Fitbit's Ionic smartwatch has a bigger screen and offers more: it'll track your GPS, offer personalised workouts and let you make payments, as well as acting like a more general assistant doing things like controlling your smart lights at home (from £240, johnlewis.com).
The Apple Watch Series 4 (£399, apple.co.uk) offers many of the same tools but has an enhanced focus on your heart, plotting your pulse readings on handy graphs.
If you'd rather not wear something on your wrist, the Myzone heart-rate belt (£111, buy.myzone.org) sits around your chest and links to your smartphone, and the Moov Now (£60, amazon.co.uk)is a lightweight fitness monitor you can wear on your wrist or ankle.
Fitness gadgets: The soundtrack Miles pass more quickly with music. Denon's wireless sports earphones (£149, denon.co.uk) feature special ear-hook technology so they'll stay secure when you're on the move. For something more sturdy, the Beats by Dr Dre Mixr On-Ear Headphoneshave a lightweight, flexible headband that folds away when not in use.
If you'd rather not take your phone running, Samsung's Gear IconX earbuds (£199, Samsung.com) let you upload music from your phone so they work as standalone media players.
Sometimes even Dua Lipa isn't enough of a motivator, so LifeBEAM's Vi earphones (£118, getvi.com)speak to you during your workout, acting as a personal trainer in your ear. She'll train you on your time, breathing, step count and heart rate as you go, while still playing your music.
Fitness gadgets: The look If you want to take your wearables even further, Athos's Compression Capri Tights (£257, liveathos.com) have embedded sensors which offer real-time biometric tracking, from muscle activity to calorie expenditure. These sync with an app, telling you which muscles are firing and how much they're being exerted.
When it's dark, Proviz's Nightrider LED jacket (£125,provizsports.com) and Metier's Beacon Jacket (£250,metiercycling.com) feature LED lights so you'll stand out on the roads. For cold days, Blaze's Explorer Jacket (from £200,blazewear.com) incorporates TriZone technology to keep you warm at the touch of a button.
Fitness gadgets: The accessories Now even your water bottle is smart: the Hidrate Spark 2.0 (£37,hidratespark.com) tracks your water intake and glows to remind you to drink. It'll tell you when you've met your daily goal and syncs with your Fitbit or Apple Watch to monitor your hydration.
Release your knots and tension after your workout with the Pulseball (£90, pulseroll.com), which vibrates and feels like a sports massage, then use Fitbit's Aria 2 smart scales (£125,fitbit.com), which sync with your smartphone to track your weight, body fat percentage and BMI.
Finally, Sony's latest wireless speaker, the SRS-XB501G, is the ultimate two-in-one gadget (£267.99, down from £300, amazon.co.uk. It soundtracks your workout and doubles up as a portable weight. To prove its capabilities, Sony teamed up with Made in Chelsea star and personal trainer, Lonan O'Herlihy, to create a 20-minute HIIT workout, using the speaker.
Get fit and sound good at the same time
CREDIT: https://www.standard.co.uk/tech/fitness-gadgets-healthy-head-start-2019-a4028261.html
We are a UK trusted Health & Life Insurance company. We work exclusively in association with Vitality. 1.618UK is brought to you by a dedicated highly skilled team of financial advisors. We tailor Health & Life Insurance to suit you and your circumstances.