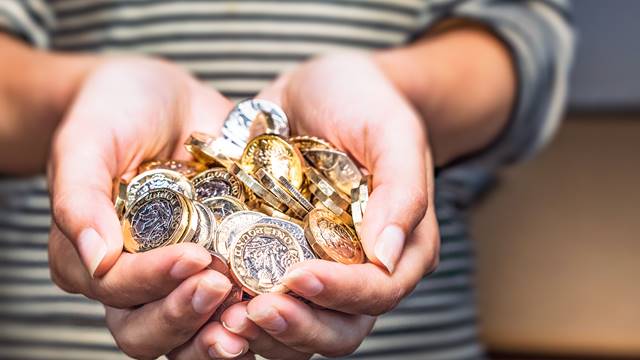 If you are still recovering from the Christmas period and trying to stretch that monthly budget, why not try the money saving challenge? www.hitachipersonalfinance.co.uk have put together 28 ways that will help those pennies go further this month.
Commuters Coffee Instead of buying that £2.75 cup of coffee on your way to work, try making your own in the morning using a travel mug before setting off. If you prefer freshly ground coffee rather than instant granules, see if you can get a second-hand coffee maker. There may be a bit of upfront cost, but in the long run, it could save you money.
Make all meals from scratch and plan every meal for the whole week If you dine out regularly, you could be spending more of your monthly budget than you realise on food. Create a weekly meal plan with your favourite meals and cook everything from scratch. There are plenty of tasty and easy meal recipes available online. We've posted on Twitter recently about Miguel Barclay and his one pound meal recipes, which are a great place to start.
Streaming TV Cable & Satelite TV packages can easily exceed £50 a month, especially with the internet as well. Streaming services such as Netflix and Amazon TV are great alternatives at a fraction of the cost and are loaded with great films and series.
Commuters Car Pool If you drive to work then you can easily save a lot of money by joining a car share scheme with other colleagues. Along with it being cheaper, it is better for the environment with fewer cars on the road.
Break The Retail Therapy Habit When you're feeling stressed, stop spending money frivolously, instead find another way to relax. Try going for a walk, reading a book or going to see a friend for a well-deserved cuppa and catch up.
Wait A Month Before Buying Big Purchases Impulse purchases can be costly and can ultimately be a waste of money. Wait 30 days before making a purchase and see if you still feel the same way. If you do, then buy it, it's possible you'll have forgotten all about it though.
Bulk Buying This is a great way to make your food budget go further, especially when it comes to more expensive items such as meat. Buying in larger quantities is usually cheaper and whatever is left over can be divided into portions then frozen ready for next time.
Batch Cook This one is great to combine with 'Buying in bulk'. Spend one day a week making meals in big batches ready for the coming week. This is great to save money on work lunches and a quick, easy way to have dinner ready when you're too tired to cook. It's a win-win.
Go Shopping In The Late Evening Supermarkets usually reduce products in the evenings and this has been a firm favourite with students and families alike. You can pick up bargain veg and meat for the faction of the cost. Don't forget to freeze anything that won't be eaten before the use by date so it doesn't go to waste.
Repair Before You Replace We're so used to throwing things out as soon as they lose a button, get a tiny hole or break. Instead of discarding slightly damaged items, try sewing on a new button, patching up a small hole or glueing over the crack. If you are nifty with a needle and thread, fabric glue or dye, you can easily customise things to give them a fresh new look.
Start Growing Your Own Food This is a nice project that you alone or your family can get involved with. Not only will you be growing organic and healthy food but also it is a great hobby to have on top of saving money. There are plenty of YouTube tutorials and blogs to get you started.
Free Fun Having fun and making memories doesn't have to make a dent in your bank balance. Swap expensive meals out or trips to the cinema for walks in the countryside, free taster sessions of new activities or an evening of board games (and a few bottles of wine) with friends.
Second Hand Isn't Second Best Along with saving the environment and a few pennies, second hand isn't always second best. You can pick up things that may have been used once or twice and sometimes even not at all with the tags still on. Check out your local charity shops, eBay, Facebook Marketplace for some great bargains. You can also pick up some fab free items from Freecycle, Freegle or Trash Nothing.
Drink More-Eat Less Drinking a big glass of water 30 minutes before your meal not only is a good health habit to have but it also keeps you fuller for longer. This tip is great for work to stop those mid-morning and post-lunch snacks from the vending machine.
Quality Not Quantity This is another tip which is also good for the environment as well as your wallet. Sometimes it pays to spend a little more in the first instance rather than having to replace a cheaper item more frequently. This works for things like a quality pair of shoes or a safety razor rather than disposables.
If You Haven't Used It In 6 Months, Then Toss It! Clutter can make your home feel messy and not as relaxing as it once was so why not dedicate a weekend to clearing out anything that you no longer use and selling it on eBay or at a car boot sale? Not only will give you extra space but extra budget as well.
Tip – When it comes to shopping for something new, especially more high-end purchases, make sure you stick to the 30-day rule then shop around to find the best price if you decide that you still need it.
End Unwanted Subscriptions And Memberships Now's the time to audit your bills and make sure that you're not paying over the odds for services that you no longer use or could get cheaper elsewhere. From your utilities to your TV subscription. If you haven't been to the gym in a while, see if you can cancel your membership, or if you're not watching much TV, try downgrading your package or swapping it for a streaming service instead. You'll be surprised by how much you can save by doing this.
Haggle! When it comes to renewing your contract, never accept the first offer you get from your current provider. ALWAYS do your homework beforehand and see what offers other companies are providing before negotiating. If you push hard enough, often you will get loyalty discounts, freebies, and even a decent handset at no additional cost. It's worth a try.
Use That Clothes Line If you are guilty of using the tumble dryer for only one item at a time, or you use it multiple times a day, then you could be burning through a lot of energy. Next time, try hanging your washing outside on dry/windy days.
Nothing Is Better Than Free If you have your eye on a new product, see if you can find a free sample or cheaper small version before you commit to the full cost to make sure you like it.
The Unbranded Challenge In most cases, you can't taste the difference between brand names and own label products, so why not challenge yourself to swap one of your cupboard staples whether its ketchup, washing powder or cereal and see if you miss it? If you don't then you can save money on your shopping bill more regularly.
Turn Those Lights Off! If you're not in a room, turn the lights out. If you're not using the TV then unplug it instead of leaving it on standby. When you're brushing your teeth, don't let the water run for the full 2 minutes. By changing your home habits, you'll be surprised how much money you could save.
The Big Bank Swap Many banks offer new customers incentives to switch, including cash, introductory rates or cash back on purchases. So now's the time to check out what's available and find the best deal for you.
Cashback When You Spend This one is a no brainer if you already shop online, the only difference is that you need to do it via a cashback website such as Topcashback or Quidco. Also, if you have a cashback credit card, use that when making your purchase through a cashback website to double your savings.
Coffee Grounds: Beauty Basic If you enjoy a good cup of proper coffee on a morning, then you'll be used to throwing away your coffee grounds but did you know that you can actually use them as part of your beauty routine? Coffee grounds are great for your hair and your skin so why not try these easy tricks for shiny hair and radiant skin.
Be A Borrower It's always best to ask friends and family before you buy something that you might only need to use once or twice as you'll be surprised how much money you can save by doing this. If you need to borrow an evening gown or a tux, try asking a pal instead of hitting the shops. It's also a good way of getting the measure of something before you commit to a purchase.
Socialising Doesn't Need To Be Expensive This can prove to be a very expensive way of socialising if there are a lot of you or depending on what drinks are being ordered. It's best to say before you go out that you would prefer to buy your own drinks as you are on a budget. Friends will always respect your decisions and there's no reason to feel bad.
High-Interest Saving This is a great way to build up some savings and to stop unnecessary spending. Work out how much you can comfortably afford to put away after all bills are paid. Also if you have recently stopped smoking or cut back on drinking, put what you would have spent into your new account and watch it all build up.
We are a UK trusted Health and Life Insurance company. We work exclusively in association with Vitality. 1.618 UK is brought to you by a dedicated highly skilled team of financial advisors. We tailor Health and Life Insurance to suit you and your circumstances.
CREDIT